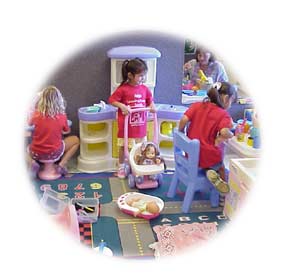 Letter # 1
"I want to share my experience as a parent at REM Learning Center.

My daughter began REM at 19 months of age. She had never been away from me and was socially immature. Her pediatrician insisted that I enroll her in a preschool program to expose her to other people. Reluctantly, I began my search.

After looking at several schools, REM was the only one which stood
out.

As I walked into my daughter's future classroom, I was impressed. The
children were all busy, grouped around their teachers. They were obviously very comfortable with their teachers and in their surroundings.

The lead teacher walked right over to us and greeted my daughter, while
respecting her space at the same time. We visited REM a few more times before making the decision to enroll my daughter.

On my daughter's first day, she played happily. On my daughter's first day,
I cried and cried!

That was 2.5 years ago. Since that time, she has graduated to two older
classrooms. She has made wonderful friendships with children who have been
with her since her very first day!

Most importantly, my daughter has always been cared for in a genuine way.
Her education is essential. Of even more significance, is her sense of
belonging. She feels like she belongs at REM!

I am a teacher myself, so I have a trained eye as far as recognizing
quality. REM has superior quality. I feel confident everyday that I made a
great decision to enroll my daughter at REM."

Letter # 2
"We would like to take the time to tell you from a parent's perspective how happy we are with your school. As you know, our son has been attending your school since he was 18 months old and now he is over 5 and will be entering Kindergarten shortly.

Your staff has always been very attentive to his needs and our special instructions. They are always very professional and we are very happy to see that the teachers are not switched often like at many other schools for toddlers and pre-k. Whenever he gets the smallest scratch or scuff from the playground, we are notified and a report is made out. All these things are consistent and without fail. We also feel very secure that our son will be there when we come to pick him up because of your "one door in-one door out" security system and electric door locks.

He has blossomed at your school. He loves to learn and your staff loves to teach. If we had to do it all over again, it would be with REM!!"