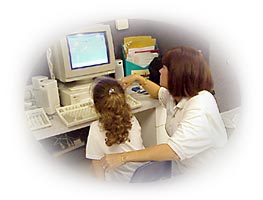 Our Early Childhood Teachers have at least a CDA Credential or an Associate Degree in Early Childhood Development or it's experience equivalent, preferably teachers have Baccalaureate Degrees. A CDA Credential requires 450 hours of experience working directly with children under supervision. An Associate's Degree requires 60 + credit hours, 30 of which are specialized study and work experience in early childhood education.

Our teachers are caring individuals who demonstrate a genuine desire to care and educate children. Our staff understands child and family development and recognizes and meets the developmental and learning needs of individual children and their families.

Research indicates that in early childhood programs, children benefit most from teachers who have higher levels of education, and specialize in early childhood education. We are continuously encouraging our staff to pursue higher professional development. It is our feeling that the quality of staff and their professional preparation in child development is directly related to the positive outcome of the cognitive development of each child. REM's policy requires the staff to take 20 hours of in service training annually.