Play Make Share
A Creative Learning Program at
REM Learning Center South, Inc.
Play Make Share Program

The Play Make Share Program:
Play Make Share is a program at REM Learning Center which investigates how the integration of methods such as design thinking, systems thinking, computational thinking, play, making, and tinkering within both formal and informal learning environments can be used to introduce 21st Century Skills and inspire a lifelong love of learning at an early age.
The Play Make Share Program and REM Learning Center are proud to have been chosen by the Maker Education Initiative to be an official Maker Corps Host Site for the Summer of 2014 along side the Patricia and Phillip Frost Museum of Science and The Lab Miami.
U.S. Department of Education and the
Early Learning Coalition of Miami Dade and Monroe
have selected REM Learning Center South, Inc. to Host:
The Early Reading First Program

The Early Reading First Program:
Early Reading First, part of the President's "Good Start, Grow Smart" initiative, is designed to transform existing early education programs into centers of excellence that provide high-quality, early education to young children, especially those from low-income families. The overall purpose of the Early Reading First Program is to prepare young children to enter kindergarten with the necessary language, cognitive, and early reading skills to prevent reading difficulties and ensure school success.

Additional Programs
Hearing and Speech Evaluations By The Hearing and Speech Center of Florida
• Receptive and expressive language

• Social Skills

• Pre-Literacy and Reading readiness and basic concepts

• Speech stimulation activities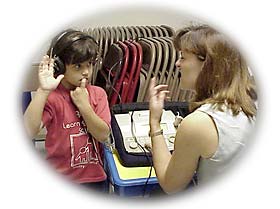 FOR MORE INFORMATION CALL:

REM Learning Center South, Inc. @ (305) 235-0300

The Hearing and Speech Center of Florida @ (305) 271-7343