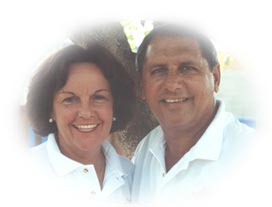 Mr. and Mrs. Moreno


After receiving her Bachelor of Science Degree in Education at the Florida State University, Rose Mary Moreno worked for Dade County Public Schools for 6 years in the area of third grade and under.

At this point in her life she started her family, of which she has 2 boys, and in the evening attended Florida International University where she completed her Master's Degree in Learning Disabilities and Mental Retardation.


After 3 years of being a homemaker and student, Mrs. Moreno returned to teaching, but this time to teach in a private school for 3 years, where she assisted in starting a branch of the school in Coral Gables.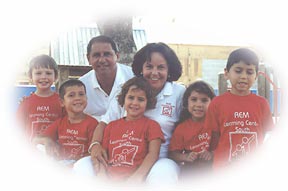 Mr. and Mrs. Moreno with children

Mrs. Moreno has been a member of Kappa Delta Phi, an Educational Honor Society dedicated to serve youth and enhance the quality of education for every child. She serves as NAEYC Mentor of Child Development Services, Inclusion Mentor for the University of Miami, HRS Advisory Board at Miami Dade Community College, and past member of the Board of Directors of the Hearing and Speech Center of Florida, a United Way Agency in Coral Gables.

Mrs. Moreno is also a trained validator for The National Association for of the Education of Young Children who is assigned to validate schools for their accreditation.

After completing his Engineering degree from the University of Florida, Mr. Moreno obtained a job with Florida Power and Light, and continued to work there for the next 23 years. Mr. Moreno has been involved as a consultant with REM from the day it opened in 1982 to date. Since the couple purchased the 2.5 acres that the new facility is housed at, Mr. Moreno has completely dedicated all his efforts into making a center that is a state of the art facility. From the security system of being buzzed in to open the door, to the biometrics system for attendance and payroll, as well as all his strengths in business, budgets, construction coordination, and management, and corporate knowledge, has given the center a strong edge. Mr. Moreno will be receiving his validation certification for NAEYC by the end of 2002.
The Moreno's are a team, working together for the cause of the children they serve.
Serving in various committees with the Miami-Dade School Readiness Coalition, both Mr. & Mrs. Moreno are constantly looking for ways to improve the quality of Early Childhood Education.


Please feel free to drop in and see us at any time...

Rose Mary Moreno, M.Ed. and Ramiro S. Moreno